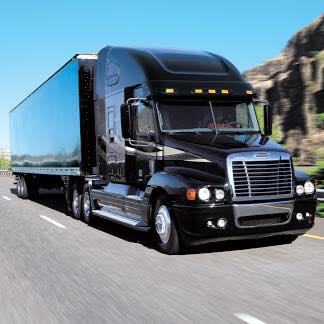 Entrepreneur Success Story: Blue Line Logistics
---
Here at MightyCall, we understand that being an entrepreneur is a grind. It's not an easy road, if it were then everyone would be doing it. And they're not. You are. Becoming an entrepreneur takes courage, risk, sacrifice, hard work, grueling hours, and working on little to no sleep. There will be highs and lows; successes and failures. These are all steps to reach your goal and make a dream a reality.
We're going to periodically feature an entrepreneur and their road to success. Everyone's journey is a little different but there will be a lot of similarities. This month's entrepreneur is 22-year-old, Emmanuel Sagan who owns a freight shipping company called Blue Line Logistics. Here is his story.
Entrepreneur Success Story
I knew I had that "business mindset" early in life. As a child, I sold candy at school. In my early teens I sold car stickers at church. In both ventures I sold them for double than I was buying them for. With an ROI of 100% that was a confirmation for me that I had a special trait that would help me in the future.
After those little gigs faded away, I didn't think much of entrepreneurship and didn't try investing in anything else until years later, at 17 years old. I invested a couple thousand dollars in a foreign currency because I got wind that it would multiply in value, so I figured I would put my money there. After some time it didn't increase in value, so I sold it off for a net loss. Two years later, I invested in a marketing company which also promised quite the return and as you might have guessed, it fell through. My upline bailed, to pursue other options, so I was stuck with my entire investment in the drain.
Through the failures, I kind of had an idea of when to stop and when to keep going. There are ventures in life that you will look at and it'll be very obvious that if you continued trying to chase it, it wouldn't work out. Like my marketing experience, I could have gotten in touch with the company and tried again but it's one of those things that you have to accept the loss and move on.
After getting married, I didn't want to play around with these "get rich quick" schemes and I decided to invest into something physical, something that I had more control over. I wanted to buy a box truck because at that moment there was local work that paid well. I found one at a great price online, so my wife and I flew from Seattle to Boston to pick it up. We used everything we had saved to buy it, get it home, fix it up and pay for all the start up expenses for our local shipping company. Once everything was set up and I was ready for business, local work died out; and with the rising prices for longer distance driving, that wasn't an option as it would cost more money than I would be making. My wife was very upset with this loss. She wanted me to sell the truck and use that money to make a down payment on a house. If I did that I would have to rely on my fallback plan of working for my grandpas commercial truck certification school making a very modest income (about $30K a year) and I did not want to do that.
I thought about my wife's request for a few days. I came to the conclusion that' it was a bad idea. We'd give up on the business, sell the truck, get a house… and then what? We couldn't pay for a house, my wife's college and live off of $2,500 a month. I knew, from the beginning, that I didn't want to go down that path. I knew that I didn't want to settle. I knew that I wouldn't be happy working a regular eight-five job, with regular pay, a salary cap, and working someone else's hours. I knew that I wanted be an entrepreneur. That's the moment I knew what I wanted to do with my life. I remember exactly where I was and what I was doing; headed home on, a dark, interstate 167-North. I will never forget that moment.
We sold the box truck, lost a few thousand dollars, and reinvested in a semi truck with a 53-foot trailer. It was all so new to us. I grew up around trucks but never invested my own money into one. I was very nervous. I went on a few long haul trips with my dad just to get the hang of it all and after that I was on my own. I did a few more long haul trips by myself and decided there's no way in hell I want to do this any longer, being away from my wife and family. So on my last trip across the states I decided to try and find local work when I got back. I did exactly that and it went even better than I expected. I had more trips but I didn't drive as many miles on a monthly basis, used less fuel, and I made more money. What could be better than that?
In between all of this, there were some major and minor mechanical issues with the truck (typical issues from hauling 80,000lbs which really takes a toll on the engine). I dumped a lot of money into the truck to keep it maintained and healthy. Until one day I noticed coolant was disappearing into thin air. I took it to my mechanic and after a diagnosis had said a piston liner cracked inside the engine. To put that simply, I needed a complete rebuild which runs about $12,000. I was furious when I heard the news, all these expenses, all these recurring bills every month. We had finally saved up a nice chunk of change and it all had to be dumped back into the truck. It was so unfair! I wanted to rip my hair out!
That was when I seriously thought about quitting. I thought, "I'll sell the truck as is, for whatever price I can get for it. I'll pay off my loan. And I'll just do something else." The only problem was, I had no idea what that "something else" would be. My dad tried talking me out of quitting for a few days and because of our conversations I figured I would spend the remaining money we had on the repairs and try to get over this bump and just move forward.
I worked as hard as I could. There were many times that I worked a 14 hour day, came home to eat, shower, change, and then back to work; and worked all night. Countless times it went down just like that. What kept me going (other than family) was the fact that I knew damn well that there are millions of dollars to be made in my industry. I knew we would get through this and make our money back and succeed. I took my failures and turned them into lessons to be learned from.
Now I run my own transportation company and a freight brokerage company; which I started in July in order to bypass paying other broker fees. I can now go directly to a shipper and do business. I am currently looking to hire employees to do local work here within Washington state. We are regularly looking for and hiring third party transportation companies to haul freight, sub contractors for our contracts, but now I'm in the process of building a permanent team!
What does success look like?
To be completely honest, I have never made as much money in my life than I have made in that last nine months. But until I know it's possible to gross $one million a month on a regular basis. I will not fully consider myself successful until I reach that goal. It's a distant dream but I know I can reach it in a relatively short time. But even that won't be the end of it, there is always room for growth.
What Motivates you?
My family didn't have much when I was growing up but my parents always provided what was needed and I'm thankful for the way they raised me, but I do this so that my kids can grow up with more than I had. Through our experience so far I have gotten my wife aboard this crazy train and she now shares the positive attitude that I have had since the start. It all begins in your head. If you can envision it, you can achieve it. That's what I tell her regularly.
What advice would you give your younger self?
If I could go back in time and tell my younger self something, it would be to save my money and get started on the entrepreneur process earlier. It's never too early! I have done the math; if I had started this trucking company at the age of 18, I'm 22 now, I am confident that I would have made somewhere near a million dollars by now. But I wanted to hang out with friends. There's nothing wrong with that; I enjoyed my teen years just doing whatever I wanted but I knew that I wanted to be wealthy and didn't act on it. So many people in their teen years (myself included) don't think about their future, or they think "I want to be wealthy" but aren't making a plan to get there. People need to realize that they can start really young and be successful very early in their lives. Entrepreneurship consists of going out and doing it.
What advice would you give to other aspiring entrepreneurs?
To all the entrepreneurs out there, success won't come easy! Work your asses off! If you come to a dead end but you know deep in your heart that you want to pursue your dream further and it seems like you can't, you make a new path for yourself. Don't give up! Sacrifice now, to live like a king later. Thomas Edison failed 9,000 time before he created the first light bulb. That's persistence! Imagine if he gave up on his 100th try. His 1,000th try or even his 5,000th try. We may not have had light bulbs. Work until your bank account looks like a phone number. No one ever got rich working eight–five. You say I dream too big? I say you dream too small! Tell me I can't and I will work twice as hard just to prove you wrong. Once you see results, it all becomes an addiction. Success doesn't come to you, you have to find success. Don't worry about what other people think. There will always be people who want to see you fail because they can't succeed. What does success require? Long days, longer nights, empty bank accounts, struggle, two faced friends, faith in yourself, and a strong work ethic. A work ethic so sick that if you were to tell someone how hard you work, they wouldn't believe you. Work hard in silence and let your success make the noise. But it all starts in your head. If you can't see your future, if you don't believe in yourself, I can promise you right now that you won't succeed. Change your mindset, and in turn that will change your life. There will never be a perfect moment. People need to take risks to make it. If only I knew the things I know today, at the age of 18. But things happen for a reason, maybe this little part here will give a young person motivation to start their own business early on and become successful early. Who knows?!