Сlick to Call – Turn Website Visitors Into Customers
Trying to keep website visitors for longer than a cursory glance? Do you want to offer something to visitors who might not want to read walls of text?
MightyCall Click-to-Call is the fastest way to turn website visitors into customers. With Click-to-Call, there's no need for your visitors to leave the webpage in order to speak to a real human being!
MightyCall's Click-to-Call widget allows you to turn the business number on your "Contacts" page into a hyperlink. This allows your website visitors to click and dial you direct.
Integrated communication
MightyCall Click-to-Call gives website visitors a chance to easily connect with the people running the website with which it's been integrated. This creates a personal touch with your customers, as they no longer need to separately dial a number.
Set-up in about a minute
Setting up Click-to-Call really takes no time at all! Simply create an account (select from either the Standard or Ultimate plans), and add your phone number. MightyCall will provide you with a pre-configured code for the widget that's ready to cut and paste into place.
It's that simple.
Visitors call you directly from the web with just a click
Make it easy for customers to ask a question, place an order or make a reservation without leaving their computer. Due to the ease of access, customers are more likely to contact you instead of passing on the chance.
Installing the MightyCall Click-to-Call widget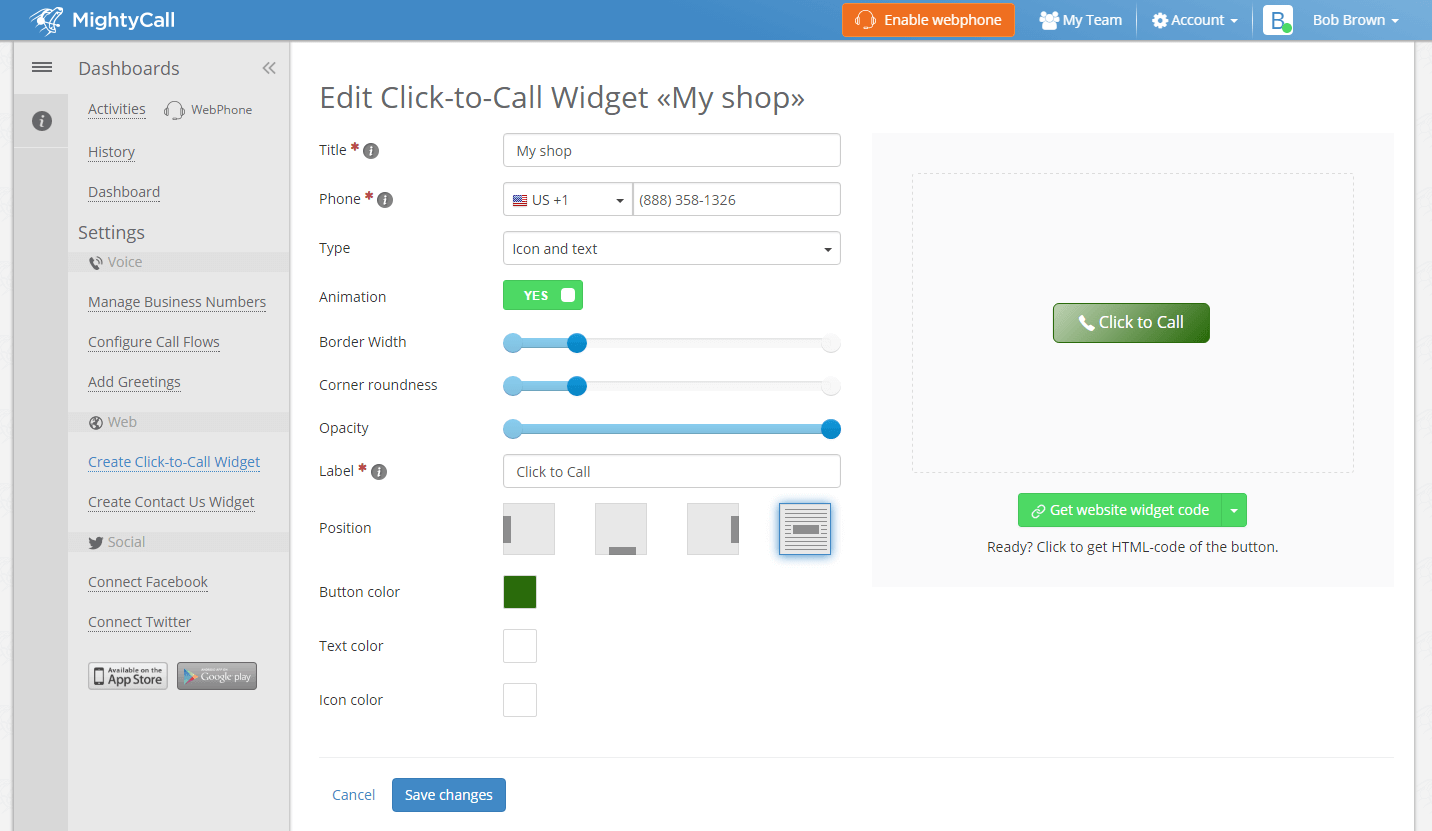 To set up the MightyCall Click-to-Call widget, go to "Settings => Web => Create Click-to-Call widget."
Choose a Widget title => Name the widget (this name will be shown when a customer opens the widget). For example, a name could be "Nancy's Flower Shop."
Enter a phone number — Website visitors will see this number if their web browser cannot open the Click-to-Call widget (we recommend using your business number).
Choose the desired type of the button (Text, Icon and text, Icon or Round)
You can enable an animation if needed, which will draw your customers' eyes.
You can edit the widget's border width, corner roundness, and opacity.

Change the title of the button to show custom text.

Select position: left, right, botton or inline on the page.
You can change colors (for the button, text and the icon).
Do not forget to save changes!!
Grab your widget code by clicking on the green button. You can choose to embed MightyCall Click-to-Call in: Your website or Get a Link Code (this will allow designers or HTML developers to create a customized button with their own branding. Note: this is an advanced option only technically experienced coders.)