MightyCall Combines SMS and Call-center Technology Into the Best tool For Your Business
---

As a provider of customer service tools MightyCall always aim to listen to our customer's requests. In fact we spend hours looking over, planning and delivering those requests. The overwhelming ask as of late is "Why don't you guys have texting?" Our response: "You're right! We should add texting." MightyCall is proud that now we can offer SMS services t our ever-growing customer base.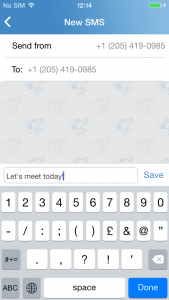 Let's face it, customer don't just call you anymore. One of the biggest ways customers contact you is through your business contact page (we can do that!) email requests (We do that too!) and texting (Oh wow, we do all of those things.)
Now with any MightyCall Professional or Business plan you have the option to add texting at no additional charge. Get up to 1000 texts with the Professional plan and 10000 with the Business plan.
We could keep telling you how excited we are about this feature or you could test it yourself!