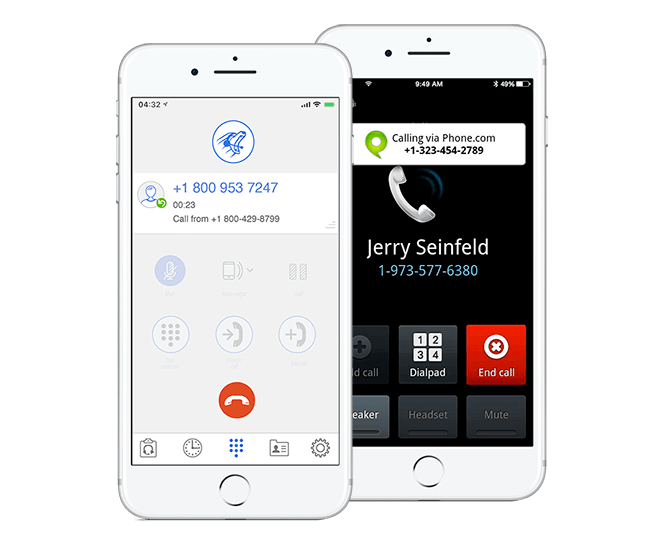 Why MightyCall is the best alternative to Phone.com
---
Phone com, as its name would imply, has been around the VoIP market for a while. They are one of the better options and a favorite among professional reviewers.
Phone com offers VoIP capabilities, but similar to RingCentral, it's quite important to use physical phones with the service too. This means that the system will shine in an office, but becomes less effective on-the-go.
Plans review
In terms of plans and prices, Phone com interestingly has both:
Limited minutes plans: $12.99 for 300 minutes, $19.99 for 500 minutes, and $39.99 for 1,000 minutes;
Unlimited plans: $22.99 for 1 number with 5,000 texts, $24.99 for 2 numbers with 10,000 texts, and $27.99 for 3 numbers with 20,000 texts.
The best comps that MightyCall has are our:
Basic plan, with 2 numbers, 1,000 minutes, unlimited texts at $19.99, and our
Standard plan, with 5 numbers, 5,000 minutes, unlimited texts at $49.99.
Just looking at the numbers alone, it's clear MightyCall's plans are superior value to Phone com's limited minutes plans.
The true comparison lies in our plans against their unlimited minutes plans. Both are great values, but you need to dig deep to decide which is better for you.
Likewise, "unlimited minutes" are not actually treated as unlimited minutes. How's that? Well, you only have unlimited minutes on calls made from an IP or softphone—i.e. not your cell phone.
That essentially guts the on-the-go versatility of the system, since you'll be paying for a separate set of minutes (this is quite confusing on their pricing displays, since it says both "unlimited minutes" and "300 bonus minutes").
Even worse? There are various situations when calls do not fall under the proper "categorization," meaning they will be charged per minute. Callers waiting in a call queue and calls with more than 2 parties connected will both be charged per minute, for example.
(The lesson as always is to read the fine print! All of this is buried in the terms of service, which you need to seek out if you don't want the wool pulled over your eyes.)
Capabilities Review
| | | |
| --- | --- | --- |
| | | |
| Price per month | $ 19.99* | $ 22.99** |
| Additional hardware | No | $ 4.99/mo per device |
| Local or Toll-free numbers | 2 | 1 |
| Minutes Included | 1 000 | 5 000 |
| Text messages | Unlimited | 5 000 |
| User extentions | Unlimited | Unlimited |
| Call forwarding | Yes | Yes |
| Business hours | Yes | Yes |
| Voicemail | Yes | Yes |
| Call queue | Yes | Yes |
| Auto-attendant | Yes | Yes |
| Conference calling | Yes | Yes |
| Call analytics | Yes | $ 3.99/mo |
| Webphone for In/Out Calls | Yes | No |
| Click-to-Call Widget | Yes | No |
| Contact Us Widget | Yes | No |
| Call Back Widget | Yes | No |
| Social Media tracking | Yes | No |
| | *Basic | **Base |
Both companies offer unlimited extensions so you can involve your team. Surface-level differences then breakdown this way:
Phone com: $22.99 for 1 number, 5,000 texts, and unlimited minutes, or
MightyCall: $19.99 for 2 numbers, unlimited texts, and 1,000 minutes.
You may be quick to jump at the unlimited minutes, but for most Basic plan users here, 1,000 is more than enough per month. Unless you know you will be making calls non-stop as a solo entrepreneur or very small business, unlimited minutes aren't necessary—and often simply end up justifying a higher overall price.
While neither our Basic plan nor their $22.99 plan have an armory of advanced features included, they both have all the basics and necessary functions of a virtual phone system (and operate well). MightyCall also offers some more modern features, such as social media integration and website widgets (click-to-call, contact us, call-back)—all conveniently located in an "Activity Queue" to make your communications go smoothly.

If you want advanced features, then our $49.99 plan has you covered—call recording, voicemail transcription, analytics, etc. Yes, that's more expensive than all of Phone com's unlimited plans, but their pricing is not as straightforward as ours. Our plans have every feature listed in them included, with unlimited access. Phone com makes you pay monthly for each advanced feature.
Because Phone com is more of a built-in system than true and complete Cloud software, the number of users (as is typical industry lingo) matters.
Phones themselves are $4.99 a month, additional phone numbers are also $4.99 a month, and again, advanced features all require monthly payments too—call recording is $4.95 per 300 minutes a month, transcribed voicemails are $1.50 per extension per month, and call analytics are another $3.99 a month.
Add all that up and $23 to $27 dollars can shoot up past $50 quickly.
Once the price difference is negligible (or Phone com becomes more expensive, depending on your number of users), the comparison comes down to how well the services work and how much you care about restrictions—do you want your features to have a cap on them or are you more concerned about using all your talk minutes on our plan?
Neither company offers free trials, but we both have 30-day money-back guarantees. Both are good systems, so if you feel comfortable you can choose one and give it a try, seeing how it works for you.
Interface Comparison
Ease of use is important for most business owners, and with a simpler and more intuitive layout, MightyCall has achieved what Phone com has yet to.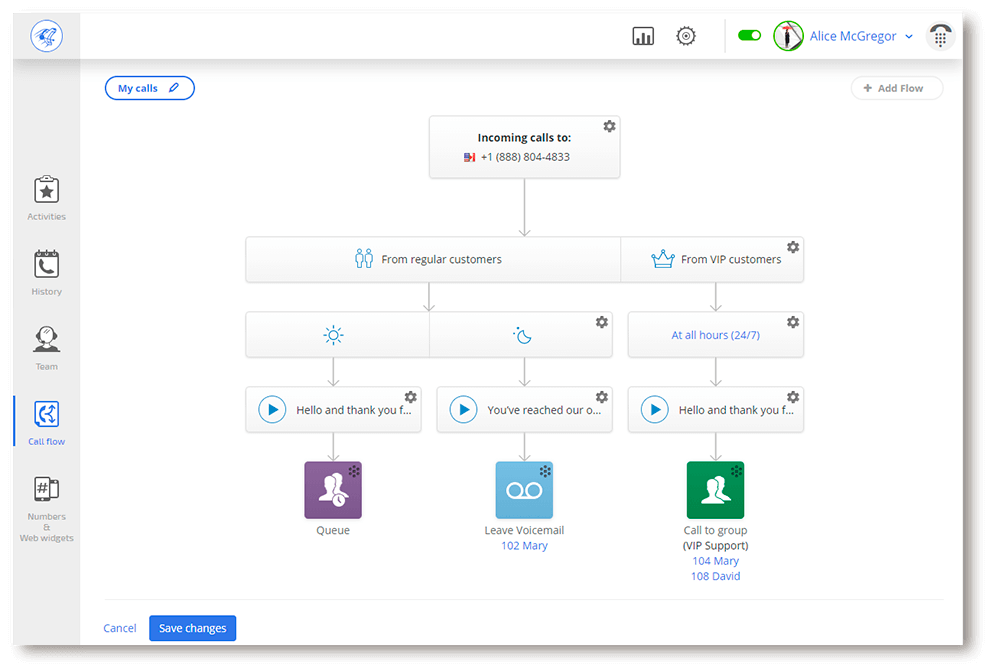 Pick the right plan for your business
Get a 50% discount on MightyCall for your first month.
If you already have a virtual phone number, we can port it in for free so you can keep using it.
All plans include
Unlimited Extensions

Unlimited Text Messaging

Customizable Call Routing

Auto-Attendant

Webphone

Conference Calls

Call Queues

Voicemail to Email

Custom Greetings

Performance Reports

Facebook & Twitter Integration

Web Widgets
30 day money back guarantee

No long term contracts

You can change your plan anytime