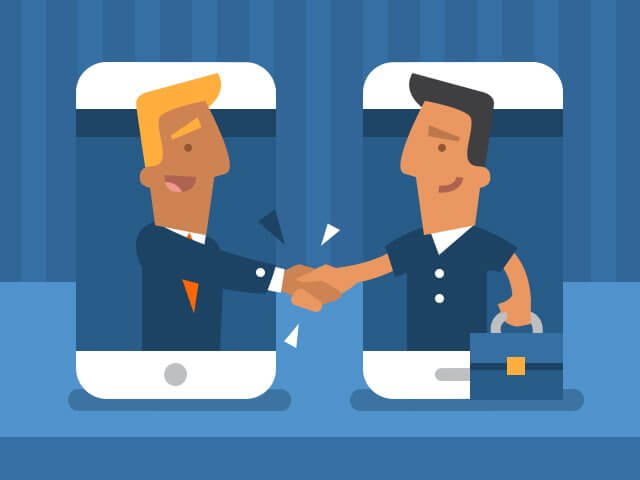 E-tailer Saves Money With Virtual Phone System
---
Updated: 2017.02.14
This article covers:
Advantages and disadvantages of doing business online;
How MightyCall virtual phone number system helps real-world e-tailers;
What benefits MightyCall offers to its e-commerce customers.
E-commerce: doing it right
Bricks-and-mortar facades are no longer necessary for launching a retail business. Financial analysis shows that about one quarter of the modern US retail market is occupied by online commerce companies and this share is constantly increasing. That means even long-established enterprises of good repute are essentially committing economic suicide when refusing or failing to open an online shop, becoming 'clicks-and-mortar'. One thing a budding e-entrepreneur should keep in mind, though, is that online commerce requires different marketing and cost-cutting strategies than traditional business. In this article we will throw some light on e-commerce advantages/disadvantages and analyze a real-world example of efficient cost-cutting.
Why online shops are on the rise
Online commerce surely offers numerous advantages and that is why it becomes more and more popular. With the development of communications technology and delivery services, it has become a less troublesome way to sell your goods. And here's why:
Faster access to the market. With services like Amazon or eBay it has never been easier to launch a retail business. You don't even have to create a web store of your own and invest into its development. These huge marketplaces allow their users to sell anything from cosmetic products and fashion items to electronics and vehicles. Regardless of whether you produce goods of your own or buy them in batches from a supplier, e-marketplaces are a good way to start. They can serve a good option to test your business ideas and get initial profits while working on an online shop of your own. Anyone can start selling within several days!
Cost-cutting. Traditional shops require massive investments on the initial stage: paying rent for premises, hiring full-time shop assistants and other mundane tasks. In contrast, the main items of expense for an online enterprise are marketing and user experience. Even more importantly, both of them ― if handled properly ― directly increase your revenues.
No geographical restrictions. A bricks-and-mortar shop ties its owner to one exact location. Expanding your target audience is only possible through opening affiliated branches in other districts, cities or states. Besides being expensive and time-consuming, it also involves risks. An incorrectly-chosen location may render all your marketing efforts useless and turn your potential profits into losses. E-commerce is free of these troubles. You automatically offer your goods nationwide, while your potential success in the market depends solely on the marketing strategy and service quality. National borders aren't a problem either. If you've found out that your goods/services are in great demand abroad, all you have to do is deal with the language barriers by translating your website and marketing materials into a desired language. Just don't forget to add appropriate shipping options.
Potential for growth. It's easy to scale up both quality- and quantity-wise. There are actually no barriers for partnering with any e-company worldwide in order to expand your business area more efficiently. Digital assets are highly scalable nowadays: it doesn't take much time to add more features to a web store, expand a marketing campaign or deploy a virtual call processing system. With a professional communications model it's possible to do business in, say, South Korea while keeping an office in North Dakota.
Information about your customers. Sophisticated online analytics tools are extremely useful when exploring your target audience. It's possible to create a typical user profile and amend your marketing policy to target your potential customers precisely. Effortless user feedback is a valued instrument to determine the needs of your clientele and problems of your current setup. Once bottlenecks are discovered, it becomes possible to eliminate them.
Typical problems of an online entrepreneur
If e-commerce is such a heaven-sent gift for an aspiring entrepreneur, then why do so many of them fail? According to a Forbes article, 80% of freshly-launched small businesses (most of them working online) fail within the first 18 months. It happens for a number of reasons, such as inability to pay bills, offering services which are not in demand, poor management, etc. That's why it is crucial to be aware of all the potential troubles before facing them. Surely, it's always easier to prevent a problem than to fix it. Therefore, several universally acknowledged disadvantages of an online business are listed below.
Website expenses. An appealing, user-friendly website is the heart of any e-commerce endeavor. It takes substantial funding and highly-qualified specialists to create, design and maintain an online shop. Security of transactions and protection from Internet frauds can also become problematic. In contrast to one-page "business card" websites, a store requires 24/7 tech support and security to preserve uptime. The demands to performance, convenience and troubleshooting are also very high.
Competition. A low entry-level means more and more people are launching their profit-making projects. Thus, it's difficult to make yourself different from a plethora of competitors in the same field. Selling mass-market products, such as branded electronics may be hard: there are dozens of long-established serious players on the market, who can offer better prices and special offers. Needless to say, their marketing budget is enormous: it's just like a corner shop competing with a nearby Wal-Mart. The best strategy is to find a relatively free niche or offer something exclusive, which may be difficult, but not impossible. Another way is to bet on personal approach and user-friendliness: timely response to calls/messages, fast order processing, helpful support personnel.
Earning a reputation. When doing business without face-to-face interaction, it's especially hard to earn a good reputation. Users tend to notice and criticize every little fault they can find from slow-reacting support team to shipping delays. Some of these issues may be created by third parties, but there's no difference for an end user. On the other hand, only few customers will praise the flawless aspects of your business ― nowadays people take many things for granted. Even those intended as a bonus. One of the possible solutions is to master a low-competition field and offer professional services to narrow specialists. True experts tend to value real quality and recommend it to people from their circles.
Infrastructure overheads. While e-commerce can make do with lesser investments, maintaining basic infrastructure is also important. You will have to rent warehouse space, manage shipping and returns and pay your hired staff or outsourcers ― even essentials do require a well-planned budget. One of the major problems here is preserving perfect accessibility: when working with remote clientele, impeccable communication becomes indispensable. Luckily, this problem can be successfully solved without massive losses. Adequate virtual phone number systems and call processing solutions are a flexible alternative to an on-site PBX. The next part of this article provides an insight into this matter.
A virtual phone number at e-retailer's service: a user case
"MightyCall saves us money, so that was the clear choice for us. With MightyCall virtual phone system, I could be working from home, or be on a beach, and still take all my calls and not miss any customers." — Sevasti Panagiotopoulos, General Manager, Greek Superstore
Greek SuperStore is a general merchandise retailer. It offers fashion items, jewelry, clothing, books and many other things via the internet. It has a store in Astoria, New York, but the most significant portion of revenues comes from online shopping.
During the course of its development, the store faced a common problem of extensive communication overheads. While the business, obviously, could not discard telephone support altogether, its general manager found the way to optimize the overheads. An avid user of web searches and online reviews for research purposes, Panagiotopoulos learnt about MightyCall through Volusion e-commerce website store, a MightyCall partner. After considering many other options, the manager subscribed to our virtual phone number and has never regretted the decision. Our sophisticated call processing system allowed to ditch the grossly-overpriced business phone lines she was using and substitute them with an equally-efficient virtual solution.
Sevasti Panagiotopoulos said that with MightyCall's rich call management features and affordable value-added plans, her company can serve customers better and reduce operational costs at the same time. In real numbers, the cost-cutting has already reached more than $150 every month and it is just the beginning. The quality of customer service became more professional, meaning that the company minimized negative user experience.
Switching out just two landlines, Greek SuperStore has since cut its monthly bill by half. The business is also looking at streamlining its processes to save even more money: "After we cancel the remaining two lines, we plan to route all our calls to a basic landline and our cell phones. We will be saving a lot more when that happens."
Panagiotopoulos was pleased with how seamlessly MightyCall was able to switch the company from conventional landline infrastructure to cloud-based technology. Due to MightyCall's flexibility she had no trouble with retaining the same 1800 number that the store has had for decades. So this valuable marketing asset was saved. And that's good, because changing your business number often involves initial loss of customers.
MightyCall's advanced call forwarding system came in especially handy. It gave the Greek SuperStore team an opportunity to stay connected regardless of their physical location. The business calls were forwarded to personal mobile devices, so the employees could answer calls even if they were out of the office.
This description of usage would be incomplete without mentioning technical support. Although MightyCall's uptime has been impeccable, Panagiotopoulos had to contact MightyCall customer service to find the most efficient way to optimize her current communicational setup. She was immensely pleased with the personal attitude, so uncommon in today's world of digital interaction.
Cut losses and increase revenues with MightyCall
Subscribing to a cloud PBX system is a wise decision for small business owners who seek to reduce overheads without compromising connectivity. Besides having a virtual phone number (toll-free or vanity is possible) for all your business needs, MightyCall treats its customers with an abundance of advanced communication-management features.
For years, we've been specializing on small/medium business communication support and we're happy to share our experience. The full list of our services is available at MightyCall website under the Features section. In terms of real life business affairs, we offer such advantages as:
Improved connectivity beyond business hours and out of your office
Advanced team interaction for remote and on-site employees alike
Better communication management with on-the-fly task assignment
Full communication statistics and call recording
Cutting expenses on infrastructure
Multichannel integration: website widgets, business messages, social networking ― everything is accessible from one place
Fewer missed calls and lesser response times, which gives your customer care service an edge over competitors
And much more
MightyCall doesn't require expensive equipment ― start calling within several minutes after subscribing. What's more, you'll be able to use your existing assets with 100% efficiency ― no need for duplication of devices in order to respond to all calls on time. Communication is a crucial element of any online-based business, and MightyCall is your way to ensure it's up to the strictest standards. Contact us now and get a professional call-processing solution at affordable rates.