Caller ID: A Simple GameChanger
---
Some of the newer calling features may sound obscure, but Caller ID is one almost everyone has heard of, and likely used, at some point in their lives. Here we'll dive into its specific use for business phone numbers.
If you're hazy on exactly what Caller ID is, it's a phone feature that allows you to control what shows on the phone when you make or receive a call.
For example, instead of just having your number appear, you can use your company name for calls to look more official.
2 types of Caller ID:
inbound (when someone calls you) and
outbound (when you call someone).
They function a little differently (outbound calling requires access to a separate database that isn't free), but the idea is the same for both.
Caller ID can be a bit redundant, since modern phones can simply save phone calls as contacts, but for business numbers, Caller ID is extremely important to distinguish yourself from an army of robocalls.
Looking legitimate and professional is crucial for business, especially in today's world with so many scammers lurking, and the convenience of being able to split and differentiate business and personal calls is a life-saver for busy entrepreneurs.
On MightyCall's phone system, here are the basics of using Caller ID:
Inbound Calls
For inbound calls, you have the option in your account to use your business number (or your business name, if you save it in your contacts) as your Caller ID. Instead of showing potentially random numbers every time a call comes in, leaving you guessing if it's for business, having your company number/name on the display will instantly let you know to put on your professional voice.
What this means is not having to worry about juggling all of your calls on your cell phone. With your phone contacts, you can cover both bases: know who's calling and know if it's a business call.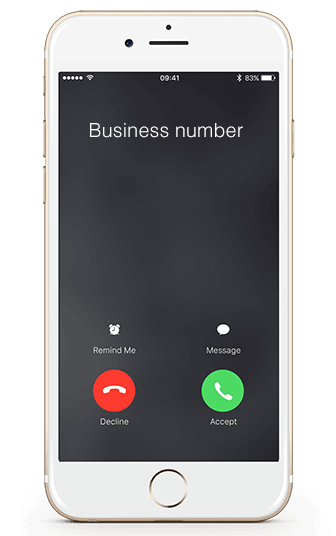 Outbound Calls
For outbound calls, we (nor any other VoIP providers) do not have control over Caller ID usage (the big phone providers like Verizon and Sprint are responsible for using the CNAM database to properly display Caller ID tags), but can help you register in the system (called CNAM) so when you call other people, your company name will display on their phone, giving you a clean, respectable look.
We've discussed it before, but it's vital for your business to look legitimate and transparent. Overall, the average person will answer a call from an unknown number less than 50% of the time, so calling without any kind of Caller ID is wasting your time. By branding your phone number, people will recognize that a business in their town is calling them (CNAM only works for local numbers, so the effect is heightened by community awareness).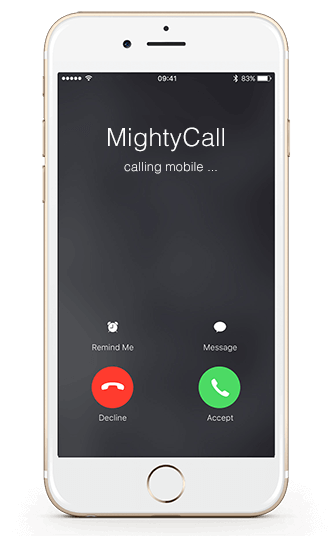 The Takeaway
When you combine both of those effects—increased recognition and convenience—using Caller ID for your business number becomes a no-brainer.
If you want to see how to get a Caller ID for your business number for free, check out the feature page here – Caller ID & CNAM
Pick the right plan for your business
Get a 50% discount on MightyCall for your first month.
If you already have a virtual phone number, we can port it in for free so you can keep using it.
All plans include
Unlimited Extensions

Unlimited Text Messaging

Customizable Call Routing

Auto-Attendant

Webphone

Conference Calls

Call Queues

Voicemail to Email

Custom Greetings

Performance Reports

Facebook & Twitter Integration

Web Widgets
30 day money back guarantee

No long term contracts

You can change your plan anytime