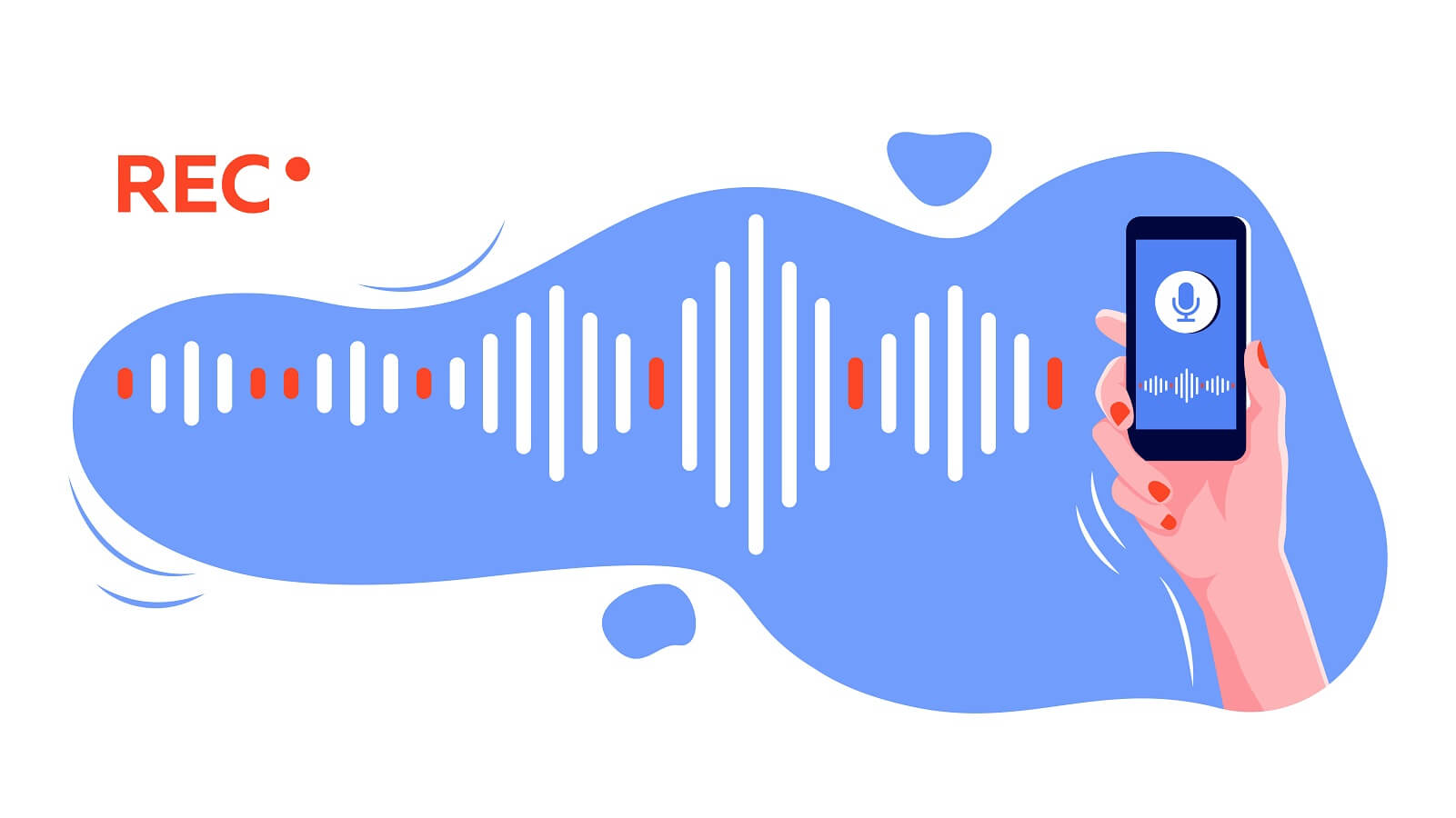 Call Recording
---
If you are a business owner, you'd agree that the quality of your call or phone system goes a long way in determining your transactions and the growth of your business.
That is why MightyCall has carefully put together the best and the most important features available to phone systems for you and your business. One of those key features is call recording.
Call recording is probably a term that is familiar to you, as it is the relatively common practice of recording phone calls. However, the MightyCall call recording feature is more than that. This feature not only enables you to record inbound and/or outbound calls, but also to systematically store and order your calls according to different criteria for fast reference later.
Why Do You Need Call Recording?
Call recording is an important tool for many reasons, some of which include:
Agent monitoring.
Call agents working for you are employed to answer customers' calls and answer their needs. It is quite important to monitor these agents from time to time to make certain that they are doing their work effectively. Through call recording, you can sample agents' conversations with customers to see if they are doing their job well and serving customers appropriately.
Customer Insights.
The purpose of your business, of course, is to satisfy your customers and in turn, make a profit. You can learn more about your customers by recording calls and analyzing your recordings for essential keywords. This will help you to be able to predict your customers' needs even before they ask, and also to make valuable suggestions to them.
Details tracking.
Sometimes it might be difficult to keep track or remember every detail of every transaction made on phone. This is where you again need call recording. With it, you can capture missed details of any important phone call or transaction.
Analyzing calls.
Different calls cycle through your organization daily. It is important to be informed about the quality of these calls in order to consistently ensure that your customer service is of the highest standard. By recording calls, you can analyze different random samples of calls and check the necessary parameters to see what needs improving—for example, the voice quality of calls.
Dispute resolution.
There are of course certain times in business where misunderstanding or disputes arise during transactions. Keeping a record of past conversations can play a big role in resolving these issues or may be used as evidence in case of legal proceedings.
Lead quality scoring.
With call recording you can always be up to date about your customers' needs by assessing the quality of leads you acquire during calls and analyzing the content of what was said.
Customer Relationship Management (CRM) integration.
CRM is a software that covers a broad range of applications designed to help your business manage various processes such as, customer interaction, customer data, and so on.
With call recording, you can improve your CRM by adding past interactions to it. You get to avoid asking information your customers have already provided and stay on top of things better.
Staff training.
Call recording also helps in staff training. You can help your staff by correcting the common mistakes made during phone calls and use a sample of a good phone call as training material to indicate where they should focus and what they should more or less be doing.
Be up to date and in the loop.
It is important to always be aware of what your customers think of you, your products, and your services. With call recording this is possible. You can also know what they think of your competitors so you are able to plan future ad campaigns.
Record Keeping.
This one goes without saying. With call recording, you can keep records of phone transactions, and your customers' demands from time to time.
How Does Call Recording Work?
Call recording is simple: when you make or receive calls, your phone system records your calls if you have the option to record inbound/outbound calls selected. To enable/disable call recording, simply go to your MightyCall profile page, click on the "Business Numbers" tab, and choose which numbers call recording will be active on.
MightyCall allows you to sort your calls by various criteria, like date, length, caller, and even the time of the call (for example, business hours or after business hours).
For any call you make on a recorded phone number, a recording will play letting the other end know that the call is being recorded. If the person you're calling accepts that, the call goes on as usual; if they don't, they can simply hang up and request you turn call recording off.
Likewise, you can record conference calls for up to an hour per call.
Better yet, you can perform all these operations directly from your mobile app, so no matter where you go you'll be covered.
However, it is important to note that this feature is only available to you if you are on the Standard or Ultimate plan. MightyCall prices are among the most competitive on the market though, especially when you consider that most competitors make you pay separately for call recording.
Although many people know what call recording is, not many of them know the extent of its value, and unfortunately, not many business owners are employing this important feature in their businesses.

How do you Enable Call Recording?
In MightyCall enabling call recording is quite easy. After you've picked the right plan for your business and you've got your phone system working, you then:
go to the 'Number and Web Widgets' page,
click on 'business numbers' button, (this is where your registered business numbers are managed)
go to 'call display control settings', (there you will see your business numbers, their type and label, your call flow rule, your status, an option to enable text messaging or not, and finally the call recording option)
click on the call recording,
you can then select which calls you want call recording to be enabled for,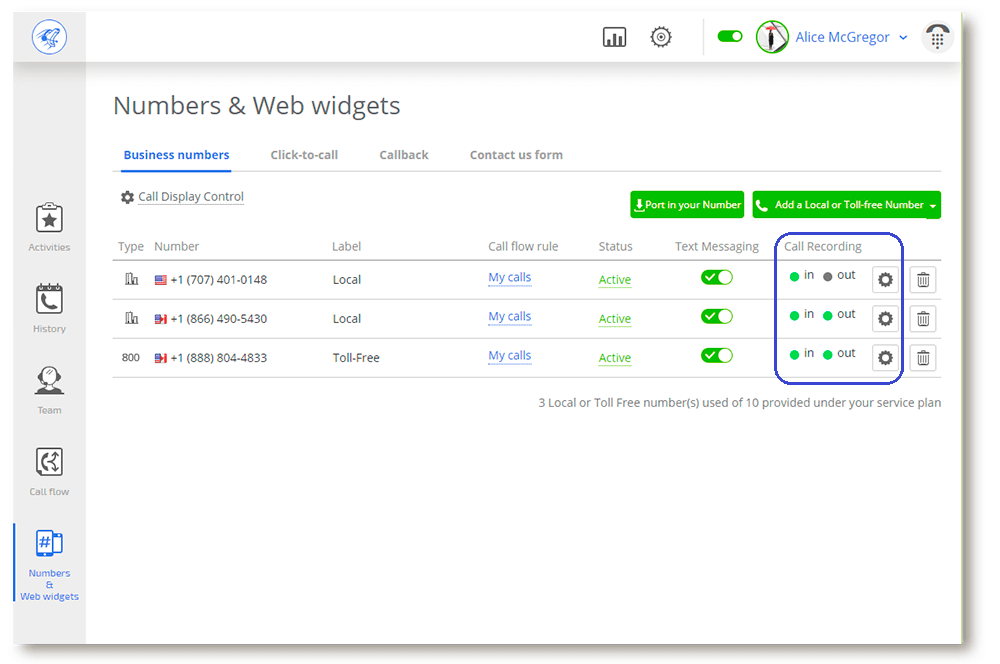 You have the option to enable or disable call recording for either incoming or outgoing calls for each of your business numbers.
If you are the type that loves a video explanation, here is our video on how call recording is enabled.
Once you've enabled this feature, no further unnecessary notification will be shown to you, as you have automatically given consent for calls to be recorded on your end.
Your customers, on the other hand, will hear a verbal announcement informing them that the call may be recorded for quality assurance and that by continuing, they give their implicit consent to be recorded.
All recorded calls are automatically saved in the Call History section. You can listen to them by visiting your call history. Calls are automatically saved by date, the most recent ones at the top.
However, you can personally determine how you save your recorded calls for convenience and easy finding. For instance, you can rename an important recorded call that you want to stand out so you can easily retrieve it later.
One important advantage MightyCall's call recording has over its counterparts is that you can record as many calls as you want and save them, since there is no limit to how many recorded calls you can have.
Is Call Recording Legal?
The issue of the legality of call recording has been a topic of discussion for a lot of people. The answer to that question is yes, if the parties involved have given consent for their conversation to be recorded.
Federal law: 18 U.S.C 2511(2)(d) permits recording phone calls with the consent of at least one of the parties. That is called the "one-party consent law", so basically, you can record a phone call or conversation as long as you are a party to that conversation.
However in MightyCall, we value your privacy and in turn, your customers' privacy, so rest assured that their consent is of paramount value to us too. Consent can be given in two ways:
The verbal announcement at the beginning of the call that notifies that the call might be recorded for quality assurance means if your caller does not hang up, he/she has implicitly consented to the call recording.
You can also openly ask your caller if they are comfortable with the call being recorded if you want to be a bit more open.
You can add additional custom message or greetings apart from the default 'This call may be recorded for quality assurance' announcement. You can make and add these custom greetings from your computer or your mobile app.
Having explained the concept of call recording and how it works, why it is essential for your business, and why it is legality, this article would not be complete without highlighting some of the numerous advantages of call recording.
What Are the Advantages of Call Recording?
The call recording feature has a lot of advantages, some of which include:
Better customer service.
This is one of the biggest benefits of call recording. By monitoring phone calls between your customers and your employees, you will be able to draw attention to exemplary customer service as well as find out about any employee who is struggling and see how to work with them.
When you call your customer at a later date, you will already have the detailed records of the last conversation and know exactly where you need to continue the transaction. Call recording helps you keep watch on your team's over-the-phone salesmanship and your employees' customer service skills.
Improved security.
With a proper call recording system, your company can reduce inappropriate calls, and also detect any security issues. Since you can monitor customer-employee interactions, you can easily detect and reduce inappropriate conversations too.
Call recording helps keep conversations professional.
Since you are required to have your callers and customers notified beforehand that their calls may be recorded, conversations tend to be professional. Customers will mostly refrain from abusive language if they know they're saying things on the record.
Less complex sales training.
Call recording saves you the time and cost of having to conduct lengthy sales training for your employees. You can easily train your employees and improve their salesmanship by bookmarking excellent customer service calls for them to use as a guide. You can also record some worse calls and point out the things they should not be doing. This will prove to be more effective sales training than conducting some abstract seminar.
Corporate liability.
Every business can at one time or the other face lawsuit. Miscommunication during transactions could lead to a possible lawsuit. Call recording can come in handy in these situations. By recording calls, your company might have some important evidence and will be able to handle such situations.
Instant team feedback.
If you are running a considerably large business and have a large team, you definitely know how cumbersome it can be to constantly gather all your employees' histories for performance reviews.
Call recording can be an advantage here. You can use call records as a tool for reviewing your team's performance. You can easily pick and analyze samples of old and new calls, and compare to see how your employees have fared. You would know who deserves praise and who needs to undergo more training.
Improved quality control.
Nobody likes the situation when you are on the phone and trying to gather or pass along information only to mishear or be misheard over and over again. It is a rather frustrating situation for both people involved.
Call recording helps you avoid this in your customer-employee phone conversations. Instead of having to ask your caller to keep repeating themselves, calls could simply be recorded and errors would be greatly reduced.
Also, information such as numbers, addresses, etc., might sometimes be difficult to get down accurately on the phone, but with all details recorded through call recording, accuracy in business transactions is guaranteed.
Better conference calls.
Call recording helps improve the conference call experience. While conducting your over-the-phone business meetings, your participants may not be connected at the same time. Some might log in late, missing something important.
You won't have to keep repeating everything for the entering participants, only to lose the attention of the rest of the team. With call recording, they can just listen to the part they missed after the conference call.
Call recording can bring all these benefits to your business and more. If you'd like to see us prove that this feature is worth its weight in gold, you can book a live demo to get a first-hand experience of MightyCall, call recording and other features.
Pick the right plan for your business
Get a 50% discount on MightyCall for your first month.
If you already have a virtual phone number, we can port it in for free so you can keep using it.
All plans include
Unlimited Extensions

Unlimited Text Messaging

Customizable Call Routing

Auto-Attendant

Webphone

Conference Calls

Call Queues

Voicemail to Email

Custom Greetings

Performance Reports

Facebook & Twitter Integration

Web Widgets
30 day money back guarantee

No long term contracts

You can change your plan anytime