Ask Andy: Dial By Name
Another great hidden (not anymore!) feature of MightyCall is our 'Dial by Name' Directory. Extensions can be hard to remember if the customer isn't holding your business cards right in front of them.
Dial by Name instructs your caller to dial the first three letters of the person they are trying to reach, confirms and calls that person.
Here's what you need to do:
1. Record a new Greeting under

and

Which is simply you speaking your name (Example: "Andy")
2. Navigate to your

and find the section marked 'Dial by Name' and add the greeting you just recorded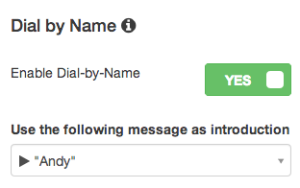 Once your whole team has done these steps you can add the functionality to your 'Receptionist'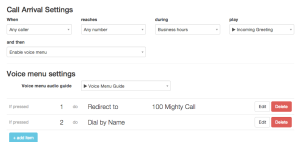 (Pro-tip: Make sure you let your callers know this is an option if you make it part of a single digit dial menu as shown here. Example: "Press 1 for MightyCall, Press 2 for our dial by name directory."